Summary of Offered Expertise & Services
Dental Hygiene Excellence is a dental consulting company. Our coaches are all practicing dental hygienists. DHE trains dental teams to implement the DHEmethod for more effective daily operations and patient management. The DHEmethod focuses on patient relationships, building periodontal therapy programs, teaching communication skills and implementing the oral systemic movement into practice. By utilizing our periodontal therapy protocols with OralDNA® testing, you will be able to make an objective diagnosis of the patients' disease and feel empowered to determine personalized Targeted Periodontal Treatments . The result of this approach is eliminating oral inflammation by utilizing the latest techniques of instrumentation and adjunctive therapies that prevent, treat and reverse disease. Mastering this protocol promotes treatment acceptance and optimal oral health for all patients. DHE can help you achieve an aligned team, better patient outcomes and more profitable practice.
Our services range from monthly in-office team coaching, one-on-one individual coaching, to continuing education courses. Our goal is to be your team's advocate onto the next platform toward higher education, increased performance and optimal patient care in dentistry.
What sets DHE apart? We are clinicians who practice as Bale Doneen Preceptors and high risk periodontal therapists at the Heart Attack and Stroke Prevention Center (HASPC) of Central Ohio (www.haspcofcentralohio.com). The HASPC is the first center in the country to have a cardiologist and dentist practicing the Bale Doneen method together in the same facility to bridge the gap between medicine and dentistry. Due to the high-risk profile of the HASPC patients, we have developed a proven method to achieve the highest level of oral health possible for every patient! Our oral systemic approach reduces or eliminates oral inflammation, one of the most significant root causes of heart disease, stroke, and diabetes.
Practice Protocol Summary
Testing made simple!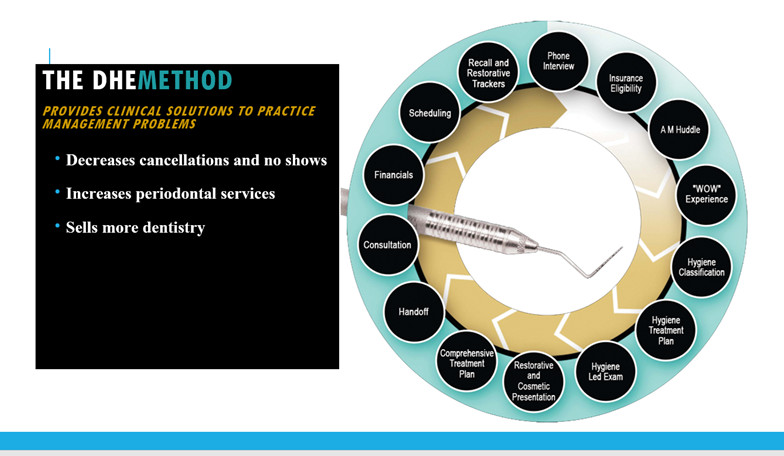 Let's work together! Our coaching is grounded in evidence-based research which is emerging daily. The DHE testing protocol includes, utilizing your patients' OralDNA® tests, thorough and meticulous therapy and employing a new paradigm of treating periodontal disease. This new treatment paradigm is a shift from specific bacteria elimination to positively altering bacterial ecology with probiotics. We are seeing promising results in our practices, following this fast-evolving technology for natural and noninvasive treatment for periodontal disease. The DHE protocol guides you through testing, treating and remodeling the destructive inflammatory biofilm to a healthier microbiome for optimal long-term patient outcomes.
DHE method testing guide
Step 1: Assessment
Oral risk
Systemic risk
Genetic risk
Familial / Lifestyle risk
Step 2: Testing
Bacterial burden of pathogens
Host response based on genetic risks
Resistant strains to treatment
Root causes
Step 3: Treatment
Utilize Targeted Treatment Sheet
Host response based on genetic risks
Resistant strains to treatment
Root causes
Check out our Targeted Treatment Sheet that is used to help you consider the different treatment modalities that would best address your patients' needs based on their testing results and risks.
Resources